New team, same swashbuckling playoff success for Tom Brady.
Brady threw for 381 yards and two touchdowns to lead the Tampa Bay Buccaneers past Washington 31-23 in their NFC wildcard game Saturday night for their first playoff victory since 2002.
In his 42nd postseason start and first not in a New England Patriots uniform, Brady made the most of a lack of pressure to carve up the NFL's second-ranked defense on 22 of 40 passing.
He had to outduel Washington's Taylor Heinicke, who had a breakout performance in just his second pro start and first in the playoffs in place of injured starter Alex Smith. Heinicke signed in early December to the practice squad ran for 46 yards and a touchdown and threw for 306 yards and a score.
But that wasn't enough to overcome Brady's brilliance.
While Bill Belichick and the Patriots watch from home with their playoff streak snapped at 11 following a 7-9 season, Brady has the opportunity to play in another Super Bowl in his new home stadium.
The Buccaneers await the result of Chicago at New Orleans on Sunday to see if they'll be visiting Drew Brees and the Saints or host the Los Angeles Rams next weekend. They'd need a Bears upset to play at home in the divisional round.
There's not much slowing Brady, who at 43 years, 159 days passed George Blanda as the oldest player to throw a TD pass in a playoff game. A 36-yard scoring connection with Antonio Brown was Brady's longest in the playoffs since 2011.
Brady was methodical in the first half with 12 completions for 209 yards and wasn't sacked until the final minute of the second quarter.
Heinicke made things interesting in the third, most notably scrambling for an 8-yard TD by diving at the pylon in the corner of the end zone. The play even got the attention of reigning Super Bowl champion Patrick Mahomes, who tweeted, "Bro what!?!?!"
The series after Heinicke banged up his left shoulder, Brady engineered a 69-yard scoring drive capped by a three-yard Leonard Fournette TD run. That made it 28-16, which was enough to withstand Heinicke's attempt to be the unlikely hero.
Los Angeles Rams 30-20 Seattle Seahawks
Cam Akers rushed for 131 yards and a touchdown and Darious Williams returned an interception for a score as the sixth-seeded Los Angeles Rams upset the host Seattle Seahawks 30-20 Saturday in the opening round of the NFC playoffs.
Matt Gay kicked three field goals for the Rams and their defense allowed 278 yards of total offense against the third-seeded Seahawks, who had won their previous 10 postseason games at Lumen Field. Seattle's last home playoff loss was to the St Louis Rams in 2004.
Jared Goff, who suffered a fractured right thumb at Seattle two weeks ago that required surgery, came off the bench to guide the Rams, throwing a 15-yard touchdown pass to Robert Woods with 4:46 remaining to help clinch the victory. Goff was 9 of 19 for 155 yards.
Seattle's Russell Wilson was 11 of 27 for 174 yards and two touchdowns, both to DK Metcalf. Wilson was sacked five times, twice each by Aaron Donald and Leonard Floyd, and the Seahawks converted just 2 of 14 third-down attempts.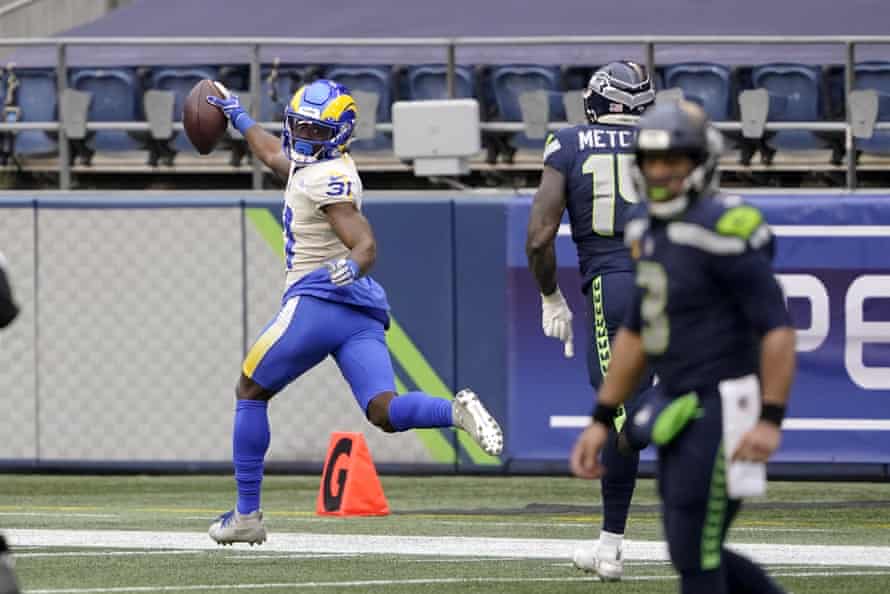 Metcalf's 12-yard touchdown reception with 2:28 pulled the Seahawks within 10 points, but Woods recovered the ensuing onside kick.
There were three touchdowns scored in a span of 4:48 late in the first half, giving Los Angeles a 20-10 lead.
With the Rams up 6-3, Williams jumped a Wilson screen pass intended for Metcalf, picked it off and went 42 yards for a touchdown with 6:46 left in the half.
Wilson scrambled to his left and lofted a ball over the secondary, finding Metcalf for a 51-yard touchdown with 3:43 remaining.
On third-and-9 from the Rams' own 26-yard line, Goff hit Akers with a screen pass. The rookie took it 44 yards down the right sideline, setting up his own five-yard touchdown run with 1:57 to go in the half. Akers, a second-round pick from Florida State, missed the Week 16 matchup between teams with an ankle injury as the Seahawks won 20-9, clinching the NFC West title.
John Wolford started at quarterback for the Rams and led them into field-goal range on their second possession before suffering a neck injury while being tackled by Seattle's Jamal Adams. Wolford didn't return and was taken to the hospital.
The Seahawks' Chris Carson rushed for 77 yards and Jason Myers kicked 50- and 52-yard field goals.
Indianapolis Colts 24-27 Buffalo Bills
Quarterback Josh Allen and safety Micah Hyde teamed up to make the Buffalo Bills' losing past history.
Now do you Bill-ieve?
In a season in which the Bills busted numerous slumps, Allen became Buffalo's first starter in a quarter century to win a playoff game. And Hyde ensured the Bills wouldn't endure another second-half collapse as happened last year in a wild-card loss to Houston, or last-second touchdown.
With Buffalo the AFC East champions for the first time since 1995 and hosting their first playoff game since '96, Allen threw two touchdown passes and scored another rushing in leading the Bills to a 27-24 win over the Indianapolis Colts in a wild-card game Saturday.
Hyde batted down Philip Rivers' desperation pass as time ran out in helping Buffalo snap an 0-6 postseason skid by winning its first playoff game since a 37-22 win over Miami on 30 December 1995.
The past was very much present in Allen's mind when reflecting on how Buffalo squandered a 16-0 third-quarter lead in a 22-19 overtime loss to Houston in his first career playoff appearance.
"Obviously we started off a little slow and we were able to get into a rhythm late. Made enough plays to win," Allen said. "It's new territory for myself, but it just gives us a chance to play next week."
The end of the game was so stunning, in which the Bills nearly squandered a 24-10 fourth-quarter lead, safety Jordan Poyer was still having difficulty trying to put the result in perspective.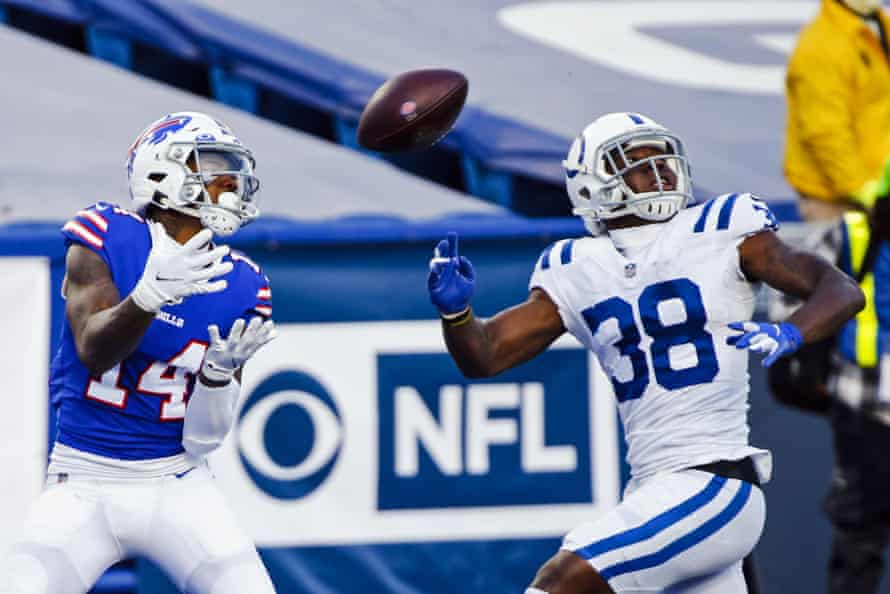 "I haven't had time to celebrate and take it in, but this is awesome for the Bills organization, the city, to be able to play a home game and get a victory," said Poyer, in his fourth season in Buffalo. "Since 2017, we've been working at this, but a day like today, to come out on top, we worked so hard."
Hyde's pass defense eased memories of the Bills giving up DeAndre Hopkins' leaping 43-yard touchdown catch in the final seconds of a 32-30 loss at Arizona on 15 November. Buffalo has won seven straight since for its longest winning streak since 1990.
And the win came with a limited number of 6,700 fans in attendance for the first time this season.
Allen finished 26 of 35 for 324 yards with a 5-yard touchdown to Dawson Knox and a 35-yarder to Stefon Diggs, which led to the fans chanting "MVP! MVP!" to celebrate the first Buffalo player to lead the NFL in catches and yards receiving.
The Colts (11-6) ended a season in which they won 11 games for the first time since 2014, and reached the playoffs for the second time in three years under Frank Reich.
Rivers finished 27 of 46 for 309 yards and had his career playoff record drop to 5-7 in completing his first – and potentially last – season with the Colts as he ponders retirement.
Losing doesn't get any easier for the 39-year-old, who has reached the conference championship just once in 2008.
"Shoot, it's hard to go back 12 years ago to think how I felt in the locker room after that championship game," Rivers said, referring to the Chargers' 21-12 loss to New England. "It's always emotional. But is it more emotional when you're about to be 40 and you're not sure if you've been in your last huddle? Heck yeah."
The game wasn't decided until the final play, when Rivers faced fourth-and-11 from Buffalo's 47. Rivers heaved a deep pass for TY Hilton, who was surrounded by defenders in the right side of the end zone. Hyde broke through the crowd of bodies, leaping up and batting the ball to the ground.
Rookie kicker Tyler Bass accounted for the decisive points by hitting a 54-yard field goal to put Buffalo up 27-16 with 8:08 remaining.
The Colts responded with a seven-play, 75-play drive capped by a nine-yard touchdown pass to Pascal. After Bass upped Buffalo's lead to 27-16, the Colts scored less than two-minutes later. Rivers hit a wide-open Jack Doyle for a 27-yard touchdown and Doyle caught a 2-point conversion.
The Bills, however, didn't make it easy. with Allen nearly losing a fumble at midfield when sacked for a 23-yard loss by Denico Autry on first down from the Indianapolis 37. Offensive lineman Daryl Williams, however, recovered, forcing the Bills to punt with 2:30 remaining.
"It doesn't matter how it looks," Allen said. "It's the playoffs. It's win or go home and we got it done."